Nylon Singapore
- Dec'12/Jan'13 Issue
VIONA - Wearing: Vintage top; jeans from Cheap Monday; belt from Urban Outfitters; necklace from Diva; bag from Topshop; and shoes from Aldo. Favourite Place to Party: Mink.
Clozette.co x Canon Campaign
-
November 2012 (
Link
)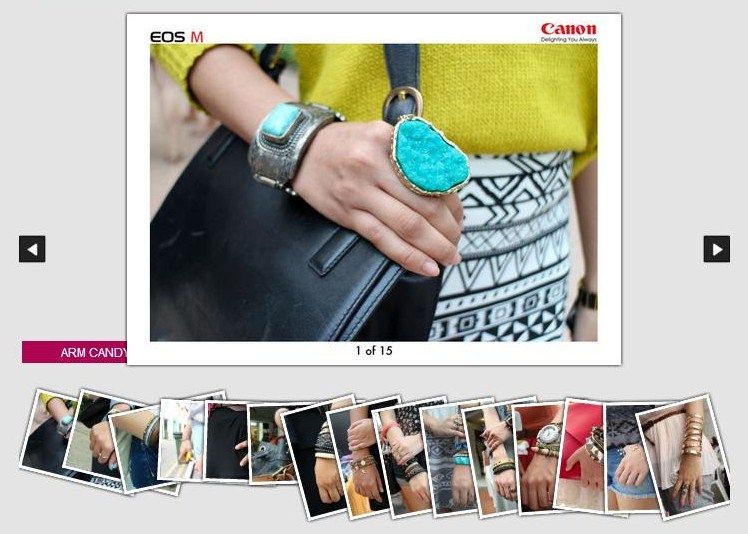 ELLE Singapore
-
October 2012 Issue
Her World Singapore
- May 2012 Issue
Herworldplus.com
-
Winner of Fashion Steps Out @ Orchard x Canon Imagining Fashion Contest (10 April 2012)
Reebonz
-
Curated Shopping Event Feature (12th March 2012)
GlamAsia.com
-
Blog Talk With Viona Wang (1st February 2012)
In case you haven't heard, Glam Asia's much-anticipated Asia's Top Glam Bloggers contest is officially on! Entry submissions has begun today and will last through the month of February.
To keep things interesting while the entries come pouring in, we will be introducing one of the contest's five lovely guest judges every week, starting today, via an interview where they'll talk to our ed Karman Tse about their humble beginnings, inspirations and style, and dish out some invaluable advice on what they think it takes to be a standout blogger these days.
First in the stellar line-up is blogger of fashion, street style and photography, Viona Wang, aka author of VW. Why do we love VW? The NTU (National Technological University) alum has the gumption to pursue her dream wherever it may take her — New York, all over Europe and basically wherever fashion is! As a result, Viona is living her dream, part of which involves rubbing couture-clad elbows with Anna Wintour and The Sartorialist!
When did you start blogging, and what inspired you to do it?
My first entry was in 2008 when I first found out about blogging and I joined in just for fun. I started officially in the beginning of 2010 as blogging gave me an avenue to share my thoughts and record all the interesting fashion, photographs and videos I find online and offline. Then, I began covering fashion shows and street style, and decided to focus on my main interests — which are exactly fashion, street style and photography.
Can you tell us about you and your fashion style?
During my exchange programme in Sweden, I travelled around Europe and met a lot of people from all over the world. They inspired me to have my passion as my career and made me pursue a career in fashion. I don't have a particular style as I dress according to my mood. But I love to add a touch of menswear, such as a bow tie, blazer or oxfords to my looks.
What, in your opinion, are the key qualities that make a good fashion blogger especially when there's a dime a dozen of them?
I think it is crucial that fashion bloggers produce their own photographs for the extra personal touch. Having a unique voice is more engaging compared to simply covering fashion events, which is what most bloggers do nowadays.
Who are some of your favourite bloggers?
Garance Doré for her amazing street-style photographs, beautiful illustrations and original content, and Style Bubble for her unique point of view, attention to details and eclectic personal style.
What advice would you offer participants, especially the new kids on the blog?
Be passionate about what you write about. Find your niche and focus on perfecting it.
What's your favourite fashion moment ever?
I have so many during New York Fashion Week last year, especially rubbing shoulders with The Sartorialist, Anna Wintour, Valentino Garavani, Uma Thurman and more. But my favourite moment is having a cozy chat with Kate Lanphear during my internship with ELLE.com. I am a big fan of her style and it felt so surreal.
ELLE.com

- 11 Lessons from Fashion Week Street Style (18th October 2011)
CATALOG Magazine
-
September 2011 Cover & UNIQLO Fashion Spread
Superhero Alias: Wolverine because of his bad-ass attitude!
Today Paper
-
6th August 2011
URBAN -
The Straits Times, 5th August 2011
We asked the top four winners of the Uniqlooks contest to dress in their casual best using three Singaporean wardrobe staples: T-shirt, shorts, sandals or loafers.
Viona Wang, 22. Uniqlooks winner and fashion blogger.
"White, black and red is my favourite colour combo. It's the best canvas to make my red lips - which I love - pop." She wears Comic Relief by Stella McCartney T-shirt, G2000 shorts, bangles from Far East Plaza, Tulest Market Rings and Birkenstock sandals.
Lian He Zao Bao
- 5th August 2011
Translation: Uniqlooks Singapore - Street Style Winners go for personal touch instead of brands.
Check out their video coverage
here
.
Herworldplus.com
-
31st July 2011