Imagine two lovers who haven't been seeing for ten years and one day, their eyes met across the railway station and they begun running towards each other in slow motion... That's
exactly
what happened to me and my beloved blog = you guys, my readers out there. I know I haven't been updating much as I was swarmed with
Digital Fashion Week
. Now that it's finally over, I'M BACK!
And the first thing I want to share with you is my Canon advertorial feature on ELLE Singapore October'12 issue. Here you can find out more about my experiences as a street style photographer, especially my New York Fashion Week stories last year. If you've experienced writers referring to a particular look or collection in a feature but the image is nowhere to be seen on the page, you ain't alone. I had to google the references online many times too. Fret not, I ain't gonna make you do that and also squint your eyes for this. I can't seem to upload it in higher-res so I'll just type it out for your easy reading (and add a little insight and references too):
"I would shoot for three hours straight along Orchard Road, walking back and forth. It was a great workout, I must say."
Learning to stomach rejections is the first rule of street fashion photography. "When shooting in Singapore, especially, you need a lot of patience and endurance," says Viona Wang, who has been capturing the camera-shy local street style scene for over two years.
Photo: Finale of Micheal Kors SS'12, my second NYFW show.
What got you started in street fashion photography?
I started photographing
portraits
of people on the streets in Bugis and Little India as well as in cities like Beijing and Amman upon purchasing my first DLSR. As my interest in fashion grew, I became more aware of the street fashion scene and fashion photography.
Photo: A group of street style bloggers and photographers gathered for a jump shot after a fashion show and I knew I had to capture the moment. I'm happy that street style has become such a significant part of fashion.
What's the craziest or most inspiring encounter you've had?
Last year, I attended the Diane von Furstenburg show during New York Fashion Week. Even though I was in the standing row and could hardly see anything, I was extremely thrilled to attend my first (NYFW) fashion show. While waiting, I decided to try my luck in photographing the front row guests (unaware that there was restricted access) and managed to snap pictures of designers (below from left) Valentino Garavani and Oscar de la Renta as well as the imitable Anna Wintour ! I almost fainted from the excitement.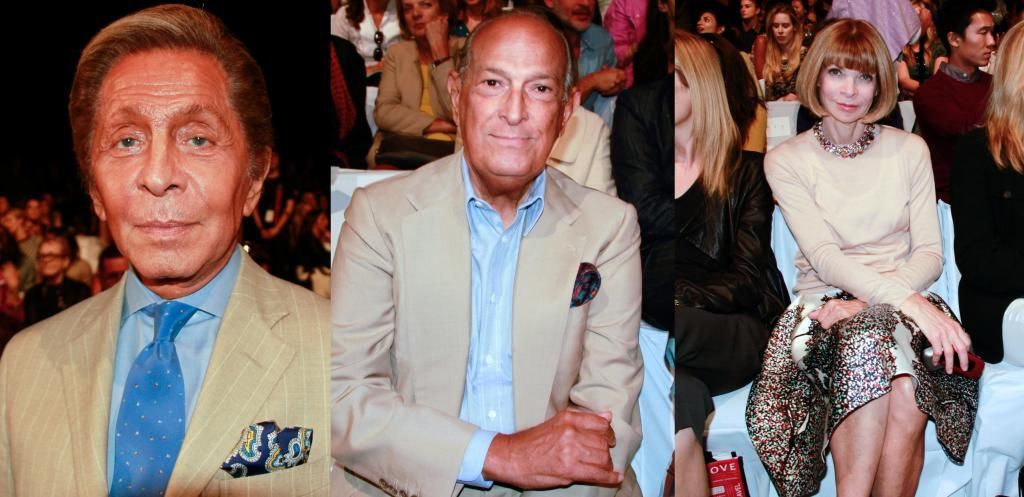 Photo: Front row coverage of NYFW'11 for herworldPLUS.
What are your top three tips for street fashion photography?
1. Get a good macro lens, such as the Canon EF 100mm F2.8. You want to create enough depth of field so your subject stands out.
2. Make sure your subject feels comfortable while you are photographing them. Speak to them politely and sincerely. Remember - they're the key to whether your photograph turns out awesome or awful!
3. Wear comfortable shoes. Unless chasing after subjects in heels is a breeze for you.
Photo: Street fashion photography sometimes focuses on zoomed-in details and composition. This photo is actually part of my
behind-the-scenes coverage
at a Straits Times, URBAN editorial spread photo shoot.
What's in your kit?
I've been using my Canon EOS 500D with Canon EF-S 18-200mm F3.5-5.6 IS lens for three years now and it's still working fine. The camera model makes a great starter kit as it's user-friendly and durable.
Photo: Other street fashion photographers specialise in full or half-body portraits like The Sartorialist. I managed to catch model Frida Gustavsson after the Donna Karan SS'12. Lovin' the bold yellow dress!