How often do you see collections inspired by something so close to us that we seldom notice its beauty? (Eye) mean floral, nature, aquatic life, fruits and vegetables are so overused in fashion these days, it's hard for designers to keep surprising us with great design (eye)deas, don't you think? But eyeballs? That is just dope! Also, dope =
Dr. Martens
' second capsule collab with model
Agyness Deyn
.
My favourite has got to be the
Eyeball Bag
above. It's amazing how four circles of different sizes and colours can be used to create the most coveted bag in the collection. Trust me. All the bloggers and editors at the media preview were diggin' it!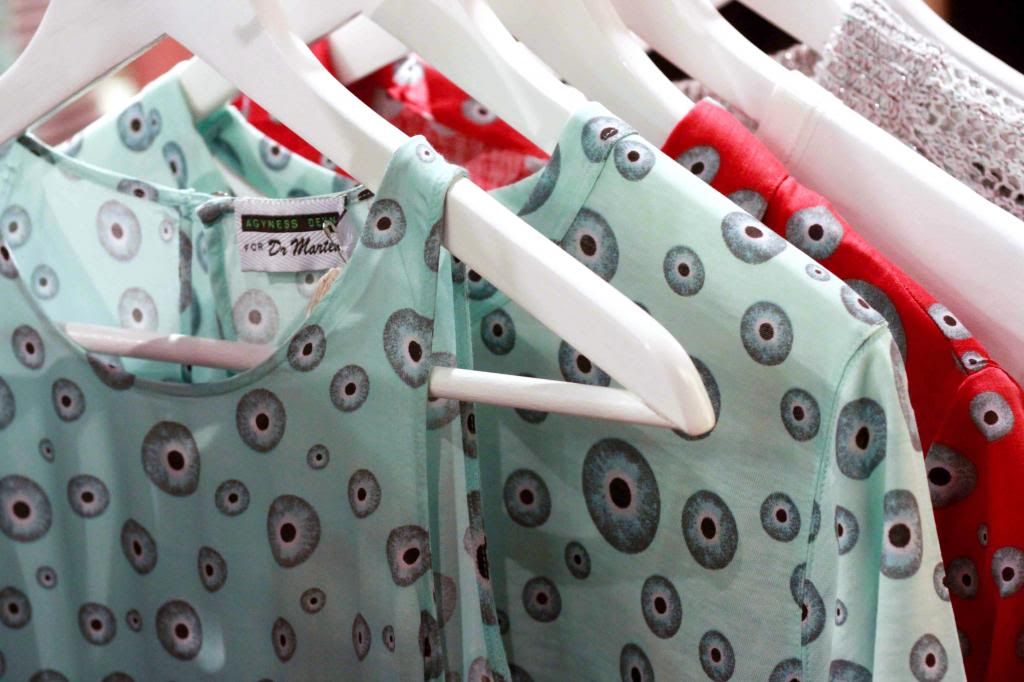 Eyeballs are clever alternatives to the common polka dot print. Somehow (eye) feel that eyeballs add a
new dimension
to the usual 2D pattern even though it's actually two dimensional. It plays with the fact that eyeballs are indeed 3D in real life. The funny thing about it is since the eyeballs aren't covered with eyelids, (eye) can't help but feel slightly wozzy having so many eyes staring straight at me.
Inserting eyeballs everywhere may seem a little trying-too-hard but in this collection, (eye) like the subtle details where eyeballs are used especially the zip details (part of the
Denim Biker Jacket
). You'll find yourself
buttoning
up eyeballs too!
Eyeballs as
boobies
? (Eye)'m sure it will look great and enhance your lovelies
only
if yours fall nicely in place with the eyeballs. Otherwise, it will look a bit off. Would I wear it? YES! (if they fit nicely, of course)
The collection isn't all about eyeballs, really (even though (eye) wish they have eyeball-printed boots). Be sure to check out the entire collection which includes heart-shaped leather bag, bow sandals, knitted jumpers and more
here
. Prices included!