There I was, sitting in front of the general manager of
Pedder Red
,
Luisa Fietta
, holding onto my smartphone with the voice recorder. We were at the corner of
On Pedder
's flagship store at Scotts Square overlooking Orchard Road. Before you get to know this amazing lady, let's rewind a few minutes.
It was press day at On Pedder and we were introduced the latest shoes, bags and accessories (which I will be sharing my favs with you soon). I haven't met LuisaFietta yet. Then, as we were ushered to Pedder Red's '
Let's Gold
' collection, the amiable Fietta appeared and boy was I captivated by her presence. If you are reading this, Luisa, pardon me for being slightly distracted.
This was what happened in my head, 'I love her style! I must photograph her and share it with my readers! How should I do it? Should I ask her directly? But I may seem a bit too freaky and unprofessional. How about Marie (marketing and communications consultant)? Okay! I'll ask Marie later.' Yes, I had a spurt of adrenaline rush and that was just a small excerpt of the impromptu meeting with myself.
It was Fietta's energy and vibe that I admire. She's stylish, super down-to-earth and talking to her feels just like catching up with an old friend. So here she is!
I cut it myself actually. (I literally went, WWWHAT?!) I just cut the sides, keeping front part long so that I can have two different ways of wearing it. Sometimes I will roll my fringe up, sometimes it's down. I'm inspired by Alice Dellal. I shaved my sides before too but it didn't look as good.
How did you start working in fashion?
I'm originally from Italy and I studied accounting and finance mainly because my parents feel that it's the safer way to go. I went to work in sales for Diesel right after my studies and spent three years there before moving to their Hong Kong office. Then, I decided to study nutrition in a Hong Kong university before joining the Pedder Group. It has been a year now.
How many tattoos do you have?
Lots. They are all on my arms. I like nature and flowers. *started unbuttoning her sleeves to reveal her tattoos* This is peach blossoms. Always need to be surrounded by flowers.
When did you first get your tattoo?
My first got it when I gave birth to my daughter. It's her name.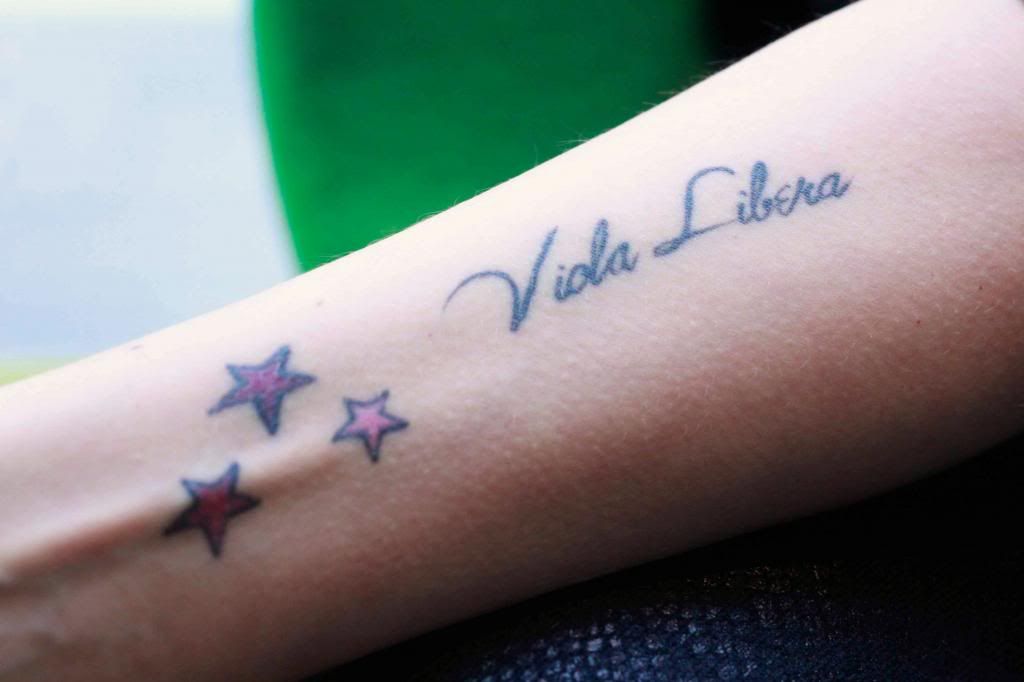 Why do you like tattoos so much?
It's an expression. There are several ways of expressing yourself. I have strong feelings for my daughter and I like to imprint something visible so it feel more real. My peach blossoms tattoo is an expression of freedom, about rebirth. Peach blossoms are slightly bigger than cherry blossoms and they only blossom for two weeks. In Japanese tradition, it teaches you to embrace the beauty and appreciate what you have cos' sometimes, it goes away very fast. Just like childhood memories. My roses (tattoo) is about passion. I am passionate in everything I do. I love drawing. Even when I was a child, I draw everything. I like art on my body.
Xiu xiu (means very little)! Hong Kong is very much like Singapore, everybody speaks English there. My colleagues are always surprised to hear my speak Cantonese. I've spent 13 years in Hong Kong and have learned to understand it better. I don't know Mandarin thou. But my daughter does.
How old is your daughter?
She's four years old and her name is Viola. She was born in Hong Kong and she speaks Mandarin very fluently.
Tell me about your style.
Women now play important roles in the society and they like to feel strong yet feminine. I like a good mix of hard vs soft, masculine vs feminine. And a bit of rock 'n' roll.
What are you wearing today?
My glasses are Alexander McQueen and my necklace is by Ela Stone. The necklace is perfect: not too shiny and has a clever use of chain and leaves. I love to collect vintage accessories, especially necklaces and glasses from 40s and 50s.
What is the most valuable vintage item you have?
It's a pair of glasses from 1960s, made of real gold. I bought it from an old vintage shop in London, England. It has thin round frames. Very cool. I don't buy secondhand. I buy old stock that nobody wants to buy so I get to buy all those pieces at their original price sold in the 60s. Some cost about S$100 - 200. (!!!!!) I find really good vintage stuff such as glasses and sunglasses from Germany, London, Australia, both sunglasses and glasses. I like old way of jewelry making.
How different is tradition way of jewelry making?
It's of higher quality because they are handmade. The makers pay a lot of attention to details, especially the closure. It's perfect. Sadly, they don't have time to focus on this now.
What do you like about Singapore?
I really like the peacefulness here, especially when you exit from the airport. First of all the cabs are clean, drivers are nice and the road lined with trees are amazing. The big streets and trees are very different from Hong Kong. All the wide streets don't exist in Hong Kong. People here are very friendly. I love it! The trees and weather here make me happy.
Luisa made me realise something I didn't know about Singapore. Come to think about it, the long straight road towards to airport is the indeed very calming and beautiful.