You must be wondering what is this sad looking figurine with a beaten oversized box head and bandaged body. Say
Hello!
to
Tau-Pok King
. Tau-pok is the beancurd with a brown wrinkled skin that is commonly found in your favourite
laksa
but unlike the rest of the tau-poks out there, Tau-Pok King - Deep fried countless times, a True Survivor - is created by
Mighty Jaxx
and
Daniel Yu
exclusively for
Kult
's latest creative project,
Unbreakable
.
An extension of
Kult Magazine
's tenth issue (also themed unbreakable), Unbreakable is a range of streetwear, artworks and products (you can buy Tau-Pok King at S$50) created with designs in collaborations with local and international artists.
Kult's social message is clear: highlighting the youths of today, who are often 'depressed, demotivated, and generally confused about life and their future.'
'From the moment we are born, we are faced with pressures and challenges. It's an ongoing battle. Pressure is what moulds us and shapes us into the person we are. To get through it all - and to come out the other side - takes grit, backbone and determination.'
I'm grateful that our generation is spared the tragedy of world wars but in the modern times now, we are faced with a completely different set of problems. We are so sheltered we lose our confidence easily and some are deprived of the drive to achieve greatness. We need a wake up call (or more like '
You better wake up your idea!
') for a change of attitude, to be able to dare to dream and fight for the change we want in our society. Big words and dreams indeed. But big things do start small, just like Unbreakable.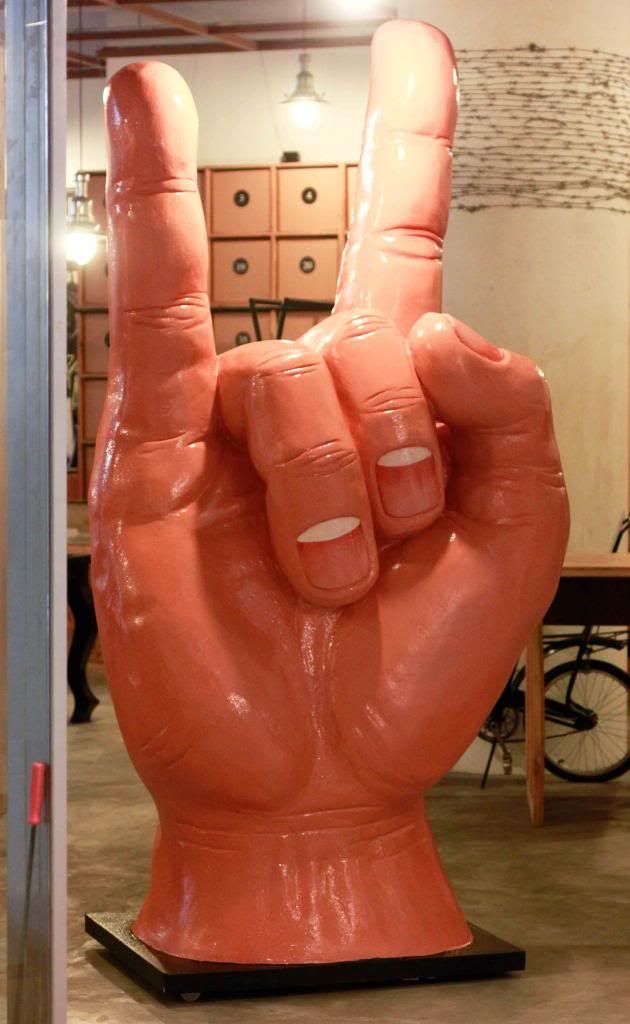 Be sure to look out for this larger than life
Unbreakable
hand sign (hard to miss!), part of their pop up shop, at multi-label boutique
Blackmarket
. This particular hand sign, drawn by Singaporean artist
Russell Ong
, was also featured the issue's front cover. I would have never imagine turning illustrations into life size work of art but it's such a dope idea. Don't you think it makes illustrations more alive with greater impact than their original 2D form?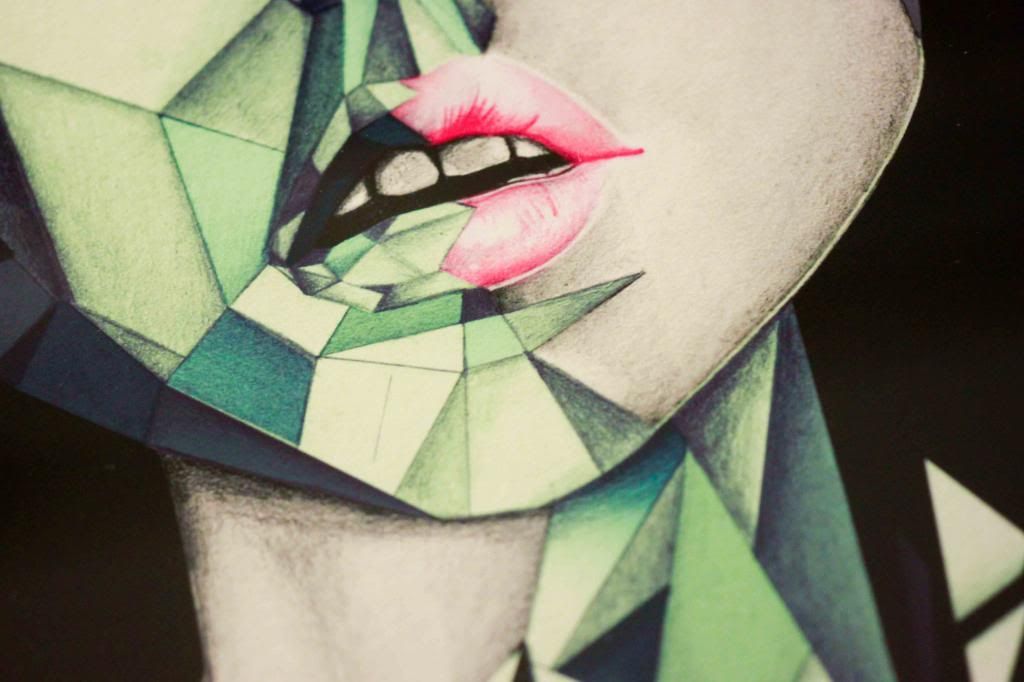 To make limited edition wearable art is one thing (you've got three unisex tees, one dress and one top to choose from in Unbreakable's first collection. Be sure to keep a lookout for their second installment
here
) but making it unbearably desirable is another. I'm referring to the black aluminium case that comes together with every purchase. Its cover embossed with
Kittozutto
's 'wired' interpretation of the theme definitely makes it a collector's item. I shall leave it to you to find out!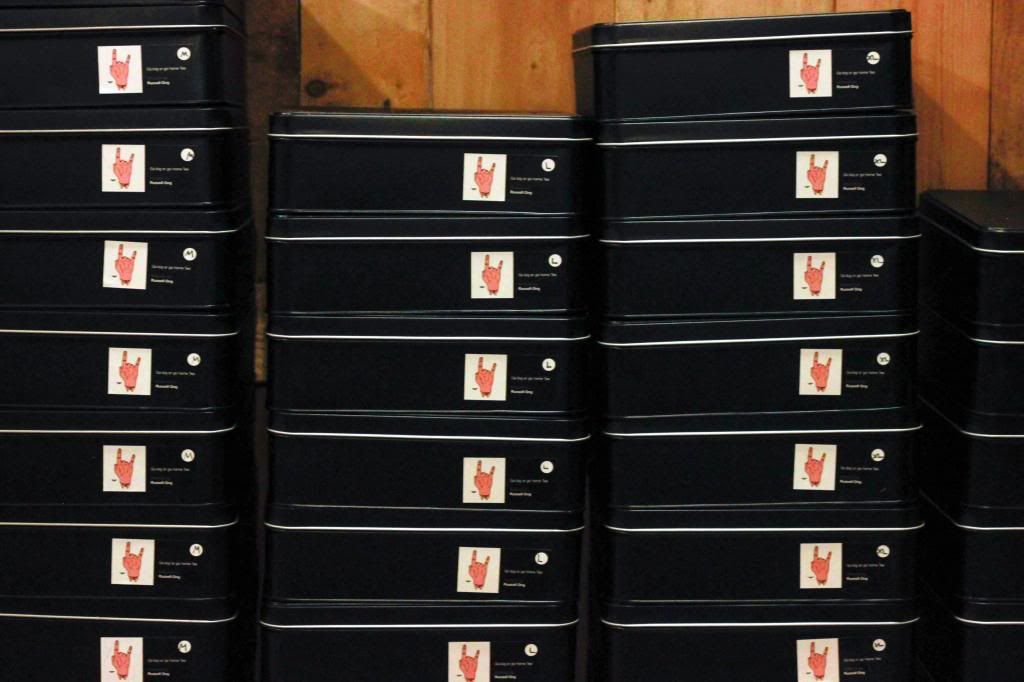 One does not simply leave you awesome readers with nothing eh? Thanks to the awesome folks of
Kult
, I'm giving away
three
of my favourite t-shirt design from the collection -
Warrior Tee
by
Mojoko
(S$50)! I can get lost just by looking at all the different types of warriors featured in the black and white collage. That includes really random ones such as a cute unicorn and the main character of the classical Chinese epic novel,
Journey to the West
, Monkey God, a.k.a. 孙悟空 (
Sun Wukong
).
All you have to do is to follow these steps:
1)
Head down to the Unbreakable pop up shop at
Blackmarket
(hint: Orchard Central Level 2)
2)
Put together an outfit, wearing one of the Unbreakable tees (be sure to bring along your own stash of skirt, pants or shorts coz there ain't many in stores)
3)
Take a selfie in the dressing room and make sure your entire outfit from head to toe can be seen like what I did below: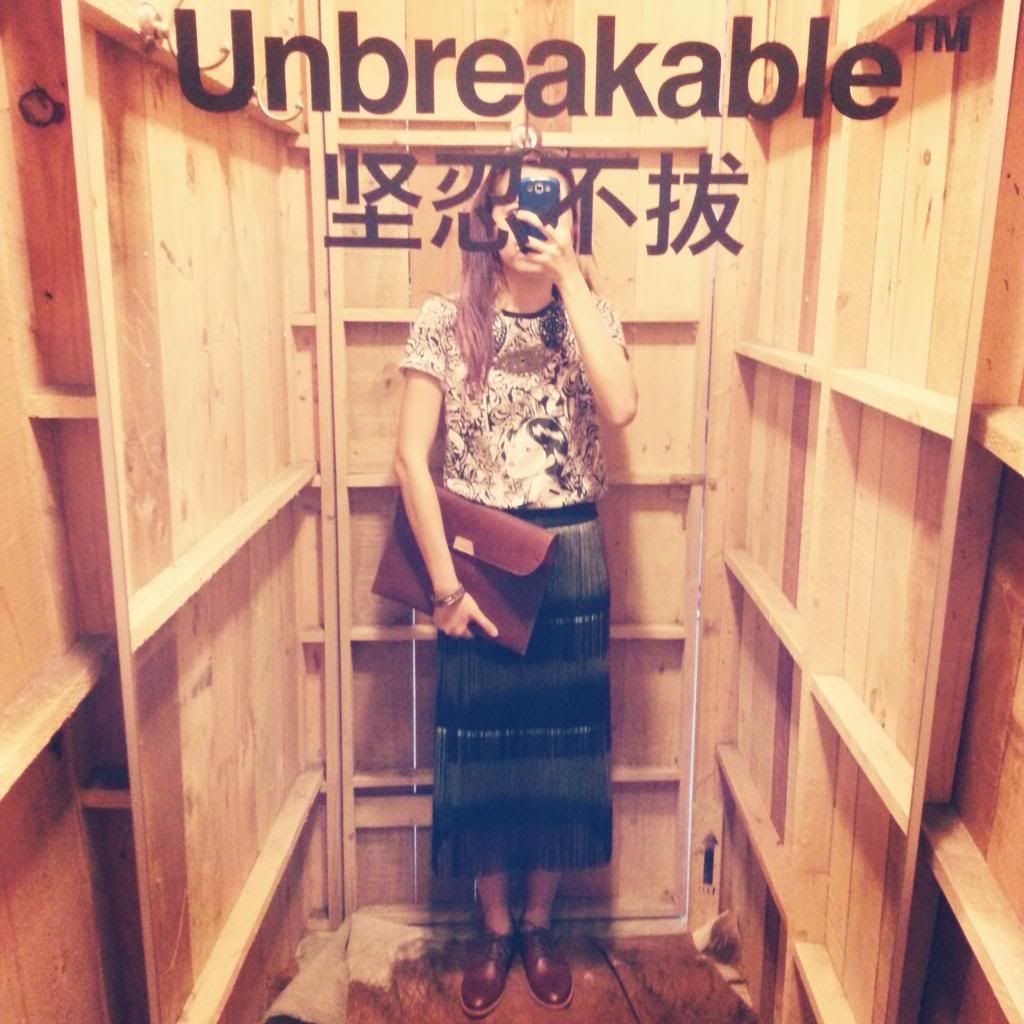 Lastly,
4)
Share it on Instagram with tags
@unbreakablesg
and
#VWlovesKult
by
7pm on 31st March
. (which is also the last day of Unbreakable pop up shop!)
Three winners with the best looks will be announced by
Kult
two days after. Size request subject to availability. Only 50 tees are produced so hurry down to Blackmarket now!
Here's the roundup: Frill dress (worn as skirt) by blackheart, iPending necklace, thirtyfour clutch and Design&Play crimson tanned leather oxford - all available at Blackmarket.