The first time I found out about Singaporean menswear label, evenodd, was at our Men's Fashion Week 2011. Running solo for three years, the man behind the a cult following is self-taught designer,

Samuel Wong
. He graduated from Lasalle College of the Arts with a degree in fashion communication besides being a stylist and photographer. Wong is certainly a
helluva
multi-tasker!
Let's begin with his secondary logo for his brand shown above, Wong uses our closest connection to clothes - needless - and places it as a cross to explain the contrast of his design aesthetics: black vs white. He is one of the few local designers who dare to create a signature logo to go along with his designs. I like how subtle it is and it speaks certainly

evenodd

.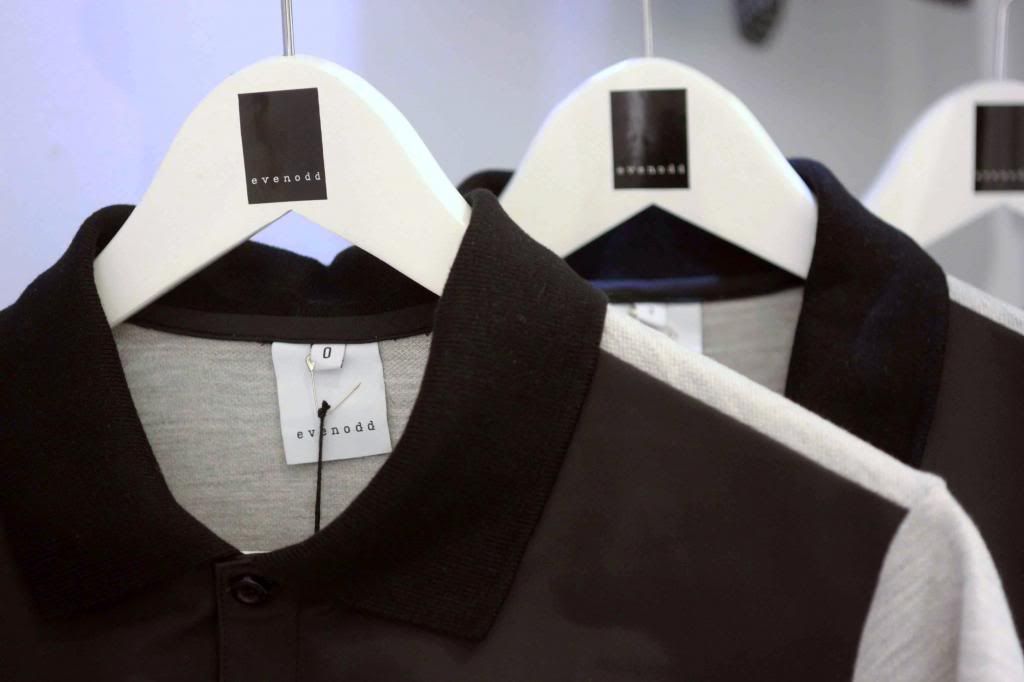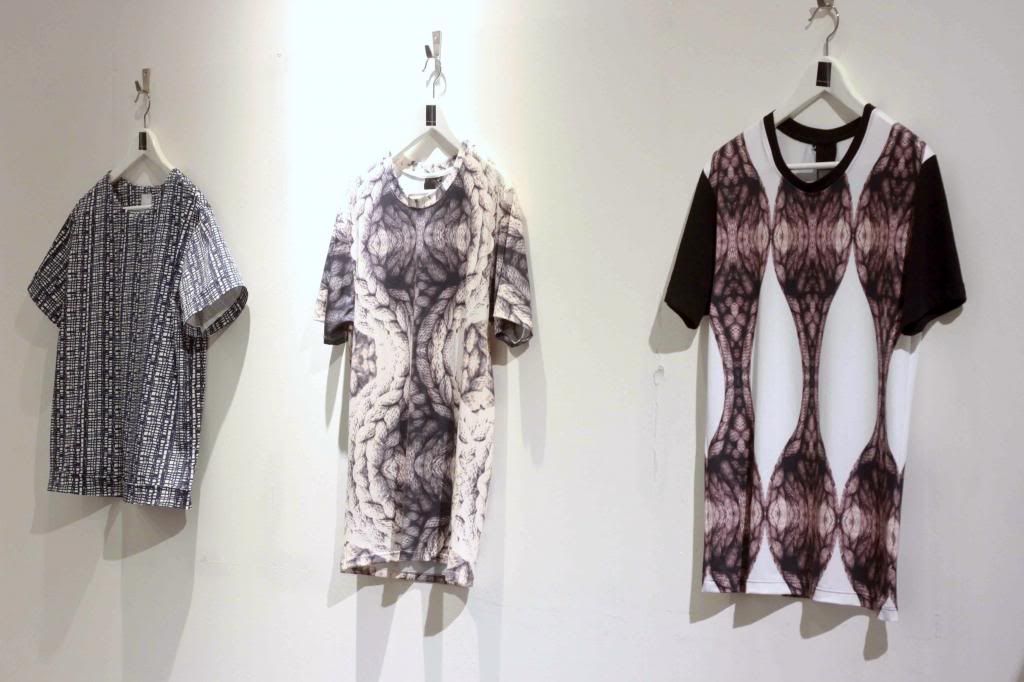 How does he do it? Wong didn't go through any formal design training at all. So naturally, he doesn't work with mood boards every season but finds an element that inspires him, and at the same time, creates a continuation from his previous collection. For Spring 2013, Wong was attracted to a particular photograph of a type of yarn and begun his manipulation, turning it into printed pieces that flew off the racks not only locally but internationally as well -
via instagram
! One of his shirts (below, left) went viral on the social network and the rest was history. Wong has his fair share of female shoppers too!
#instagramftw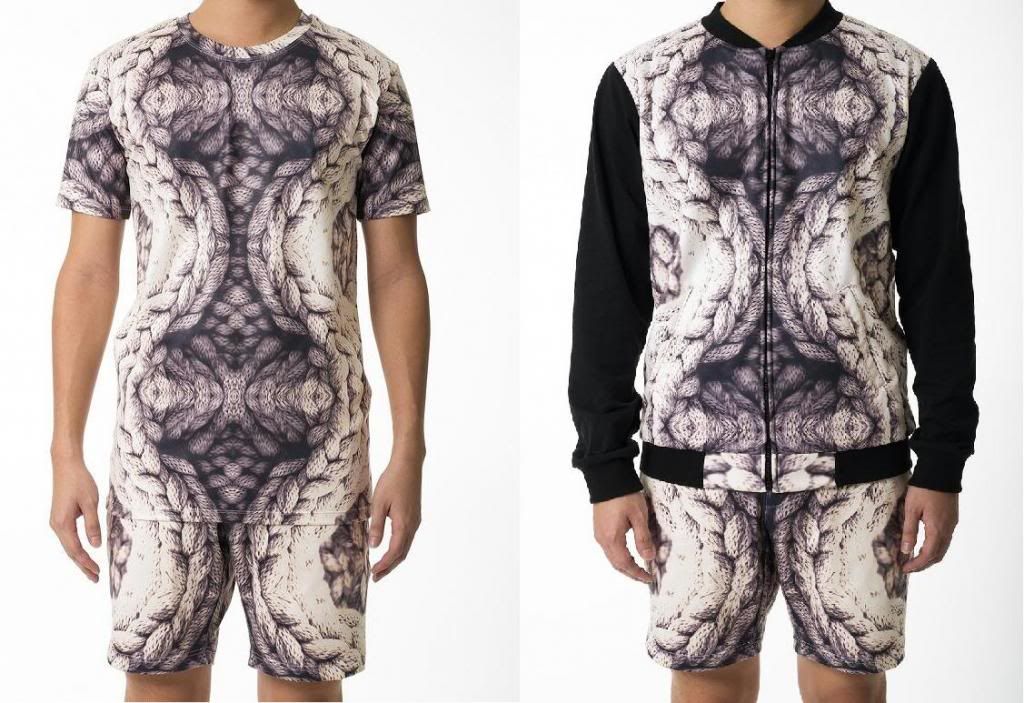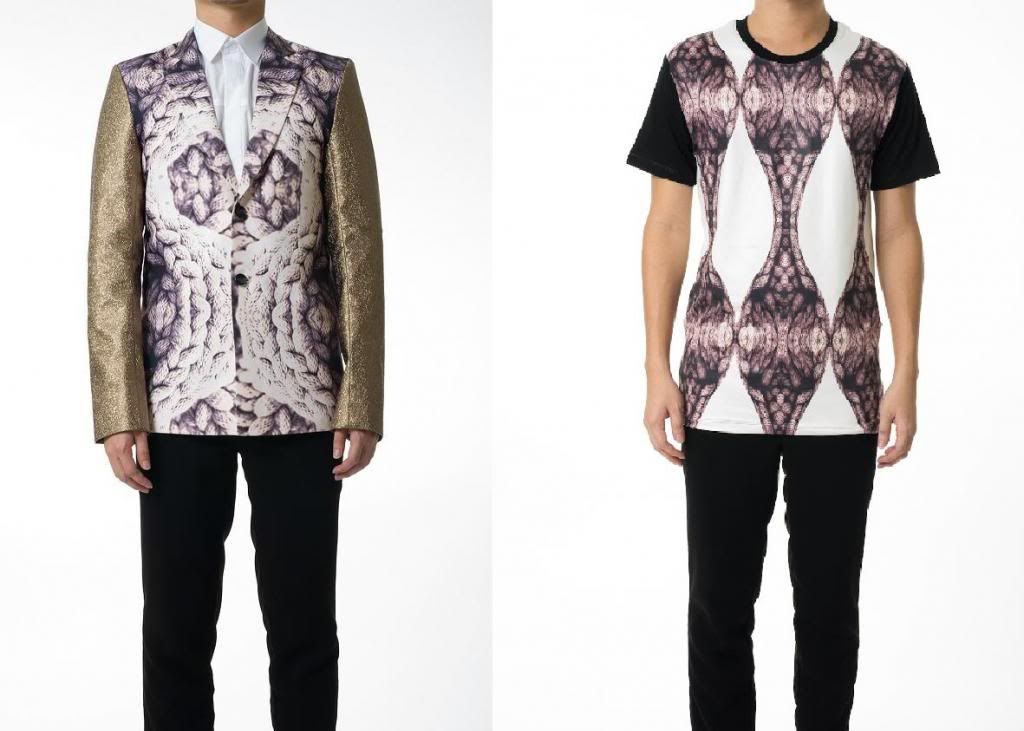 Besides creating his own prints, Wong is widely known for his black and white staples. He explained, '

evenodd

is minimal, clean and edgy

', and hopes to change the way people dress in Singapore, 'They dress too preppy.' His use of the stark contrast between black and white draws greater attention to his placement designs and technical manipulation of the conventional shirts such as the famous cropped top (a similar version can be found below in white) which was featured in Hypebeast's NYFW coverage here.

Go SG designers!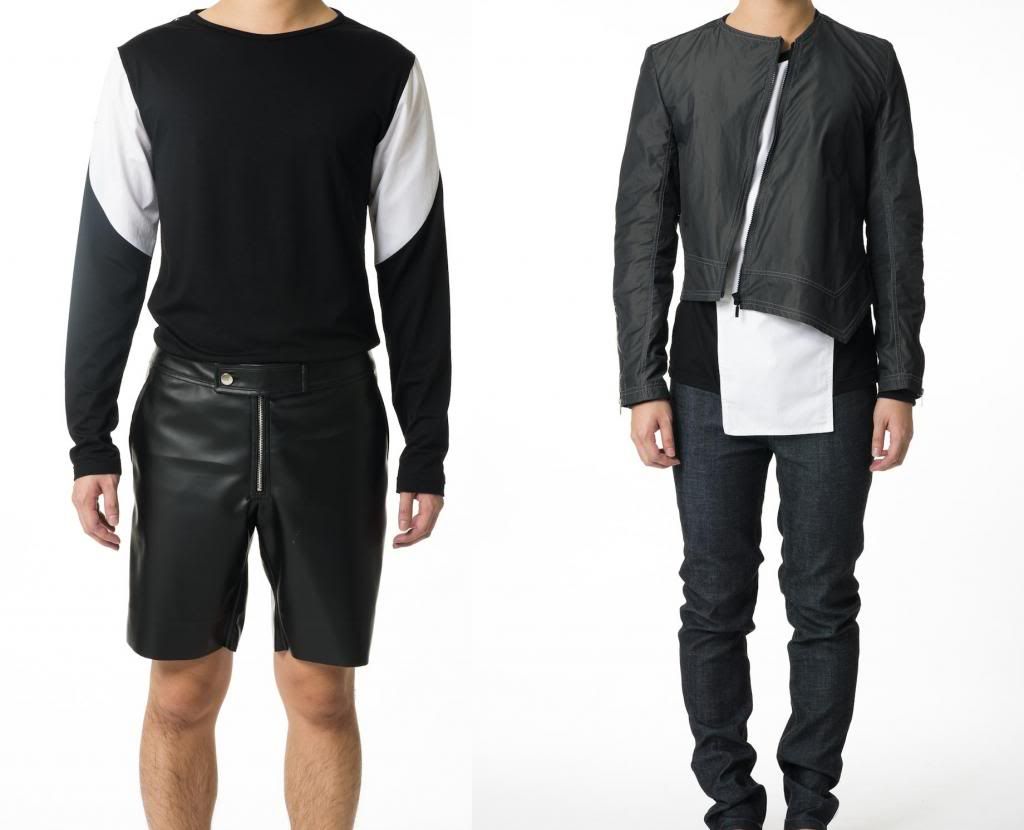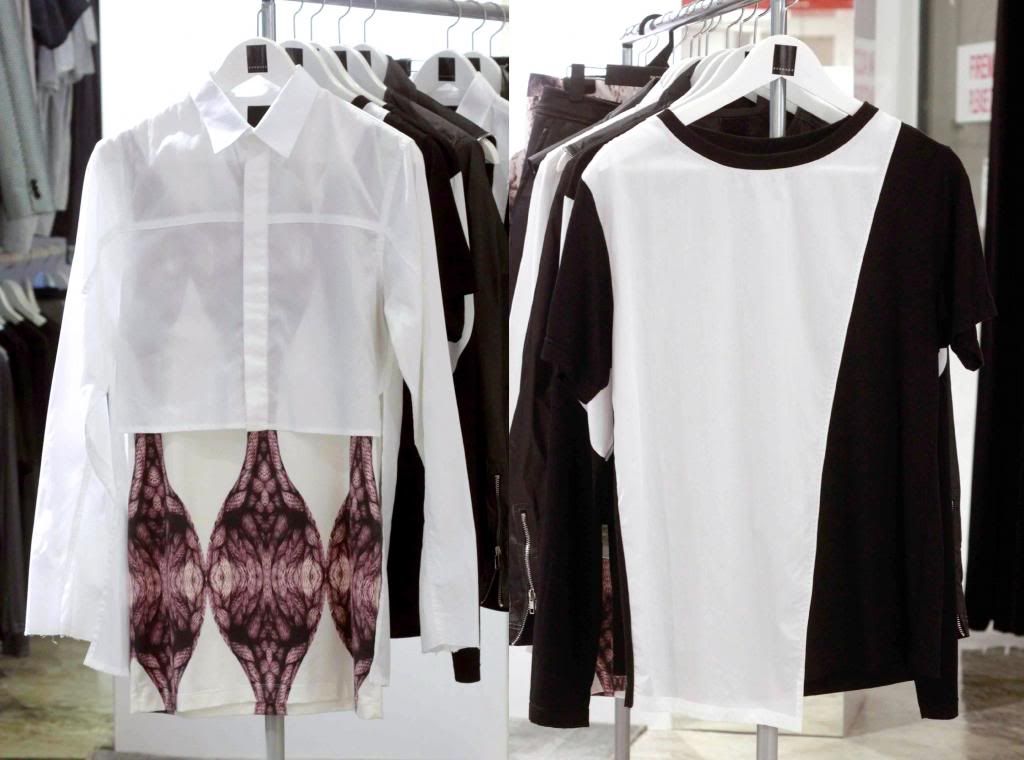 You can imagine how much coverage

evenodd

had after its feature. But no no.. Wong ain't gonna reproduce them. That's not how he works. Wong limits the quantity to only 30 pieces per design and no matter how crazy they get, face it guys, there is

NO REPEAT

,

NO MASS PRODUCTION

. A bold decision indeed and one carefully thought of to keep

evenodd

a niche label even though it's positioned towards fast fashion instead of super highend luxury. With an affordable price range of S$63-249, Why not wait for the next collection and be one of the lucky 30 sporting another interesting design?
Wong uses fabrics that are made in Singapore and his entire production is also based in Singapore. He considers himself really lucky to be able to save on excessive production costs overseas. 'Since I was a kid, my parents will tailor clothes for me. I have a very close relationship with the tailor and she offered to produce my designs.' Talking about connections.

'Made in SG' goods, you have my support!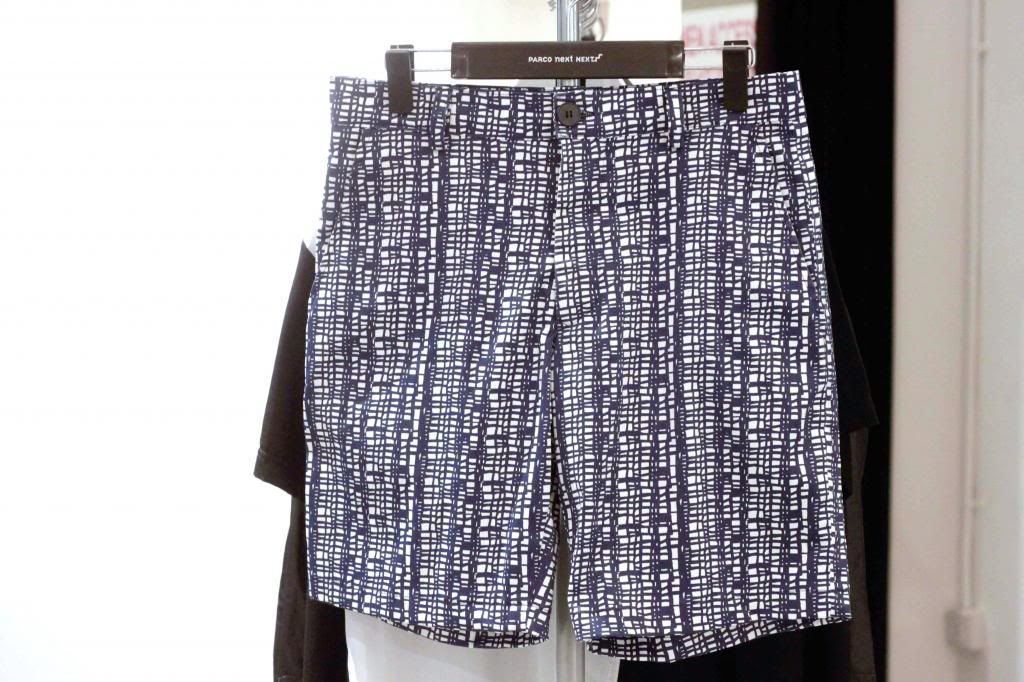 Wong gave me a sneak peek to what's in store this May. He chanced upon these cute round paillettes that can be easily ironed on and decided to explore all kinds of embellishments with it. Can't wait to see his end products!
Evenodd
will be showing at the
PARCO next NEXT
show this
Audi Fashion Festival
where you can buy all the designs on the spot. So get ready!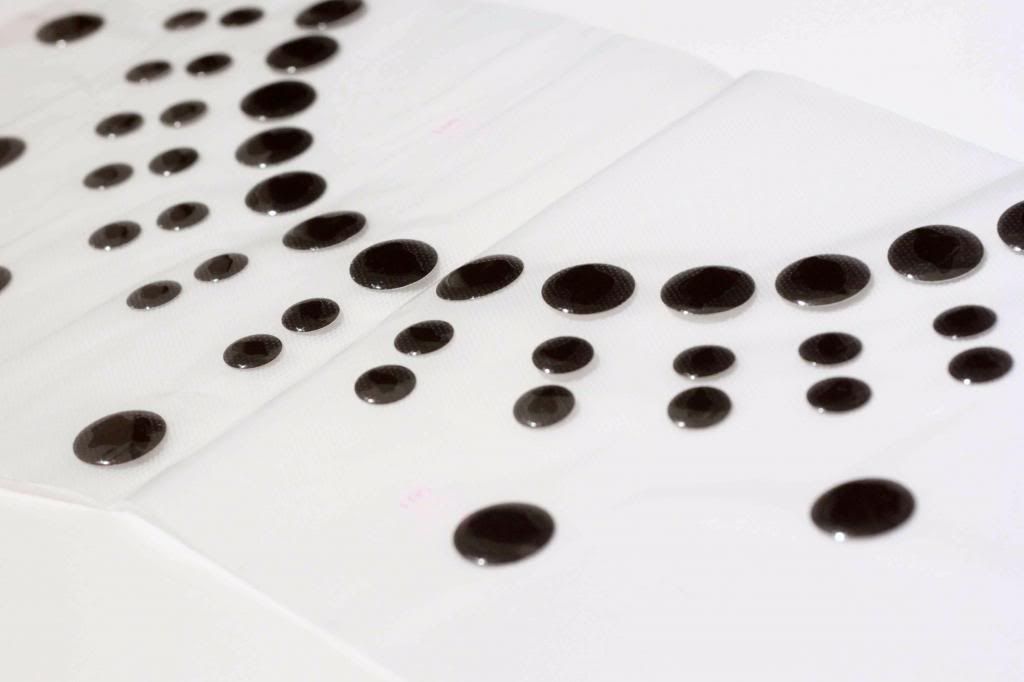 _________________________________________________________________
Here are the five facts about Wong, exclusively for yours truly:
1. Wong made his career change from a communicator to a designer is just one day.

2. Wong thinks that he has a 欠扁 (qian bian) face meaning a face which is annoying and deserves a good spanking. (Personally, I don't think so!)

3. Wong has a habit of cutting his rice grains into halves before eating.

4. Both work and play are equally important to Wong.

5. Wong's favourite food is wanton mee, a.k.a. wonton noodles.
_________________________________________________________________
Find out more about my insight into other Singaporean designers here.